How is customer flow managed with the electronic Vihta appointment scheduling system?
Vihta is an online appointment scheduling system available on your website that assists customers in scheduling appointments, arriving at the facility at the scheduled time, and checking in at the service point. The Vihta appointment scheduling system offers a smooth customer flow management process as described below: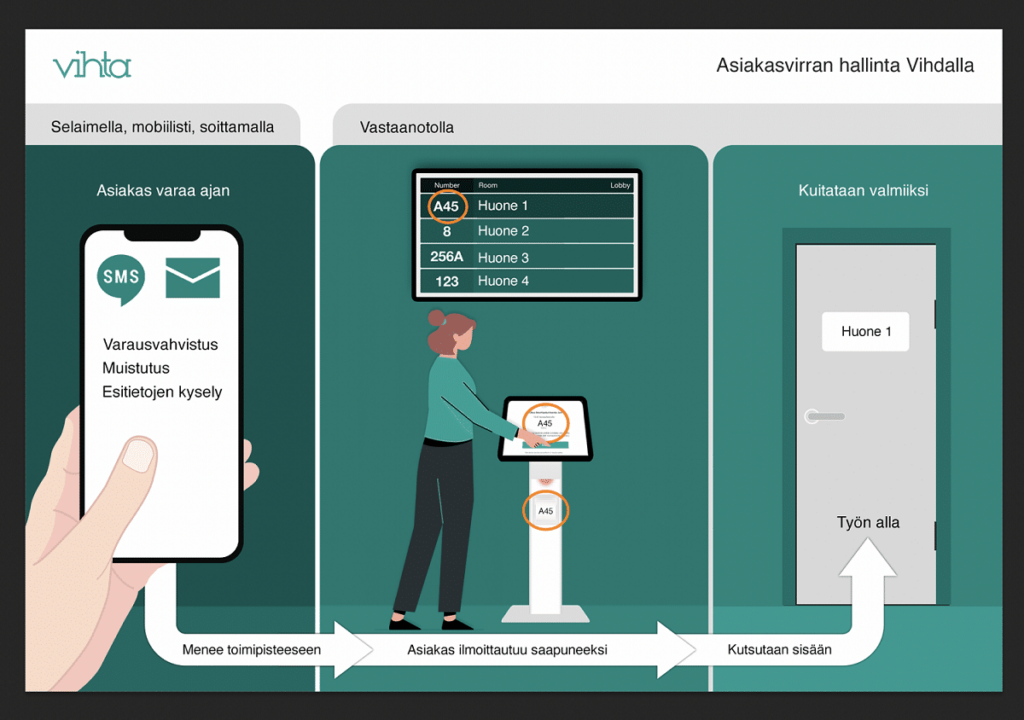 The customer schedules an appointment on your website using a browser (on a computer or a phone) or by calling your service center. If needed, the customer can be guided through the appointment scheduling process using a pre-screening form.
The customer receives a confirmation message that includes arrival instructions and information on how to modify the reservation.
The customer fills out any necessary pre-screening forms in the appointment scheduling system before the appointment. The link to the form can be sent to the customer, for example, via email along with the confirmation message.
The customer receives an automatic reminder message about the appointment, for example, a day before the scheduled time.
The customer goes to the service point and checks in using the Vihta self-check-in kiosk. The customer can check in for the appointment by showing their national ID card or driver's license to the kiosk. If the customer doesn't have their ID card with them, they can also check in by entering their personal identification number. The customer receives a service ticket/queue number after checking in.
The customer's queue number appears on the info screen when the professional calls the customer in from the Vihta customer flow management professional interface.
The customer enters the room, and the professional marks the reservation as started in the customer flow management system.
Finally, the professional marks the reservation as completed and can optionally send a feedback survey to the customer.